get involved III – bridge the gap
International Symposium of architectural & built environment education for young people
21st to 22nd of October 2016 Biennale Architettura 2016 15th International Architecture Exhibition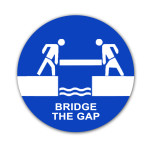 On behalf of BINK – the Austrian initiative for built environment education for young people – we have successfully established a regular discussion on architectural and built environment education for young people over the past few years. The success and further advancement of this discipline, in Austria as well as internationally, is also the result of our presence at the Architecture Biennale in Venice.
In line with "get involved I & II" in 2012 and 2014 "get involved III" will continue this successful series and with this assignment we expect to reach a very broad audience, from young people to architects, engineers and pedagogues, while keeping in line with the overall topic of this year's architecture Biennale, "Reporting from the front".
Further topics of the INTERNATIONAL SYMPOSIUM "get involved III" will be current questions concerning extracurricular learning opportunities in the context of architectural and built environment education. Lectures, workshops and communal events will help to build bridges between people in various ways.
On different scales diverse approaches on how and why living space can turn into learning space will be presented while taking into account the positive influence of free creative space, the public sphere and the current socio-political topic of migration and refuge.
venue
Biennale Venezia, Giardini della Biennale
Sestiere Castello, 30122 Venice, Italy
Austrian Pavilion
registration and fees
Regristration is open until 9th October 2016
We ask for 50,-€ for contribution towards the expenses
Symposiumprogram
Friday, 21. October 2016
3 pm Lecture "MIGRATORY LANDSCAPES"
Landscape architect Martin Rein-Cano
As modern human migration patterns intensify, landscapes of habitation and their associated communities are in constant transition, evolution and reinvention. As the meeting ground of this modern nascent culture, public space has the potential to be the essential connective tissue within this massive migratory landscape.
This lecture traces the history of identity and foreignness in gardens and demonstrates the contemporary appropriation and reinterpretation of garden inspired tactics through the TOPOTEK 1 project Superkilen in Copenhagen, Denmark. www.topotek1.de
4 – 5.30 pm Discussion forum
Presentation of three current projects, which show different approaches to how public space can stand for informal education and how it can influence learning space.
BILDING Kunst- und Architekturwerkstatt für Kinder und Jugendliche, Innsbruck, Österreich, www.bilding.at
DISPLACED, Wien, Österreich, www.tuwien.ac.at
STIFTUNGFREIZEIT – Partizipation und Interventions in public spaces, Berlin, Deutschland, www.stiftungfreizeit.com
A subsequent moderated open roundtable explores what we take out of these new informal public education areas and how they can change and shape learning spaces in our schools.
Moderation Christian Peer, Urban- and regional planner.
7 pm Workshop Cucina Pubblica "FOOD ON FOOT"
Stiftung Freizeit
Performative cooking installation on a bridge. Participants and passersby are invited to participate in preparing a meal together. Step by step and from shore to shore the recipe will be created, cooked and enjoyed together – over the water with views. www.stiftungfreizeit.com
Saturday, 22. October 2016
10:30 am to 2 pm Workshop "BRIDGE-WORK for a common ground"
The Austrian Biennale Team PLACES FOR PEOPLE represented by "Caramel Architekten" together with TU Wien, project "DISPLACED" (winner of SozialMarie 2016) offer a workshop to "What are informal education facilities in public and semi-public space, how can we install them and how will they affect us ". Creative, performative and participatory methods will be shown.
Workshop leader: places for people, Ulrich Aspetsberger; displaced, Renate Stuefer and Karin Harather
Registration is open until October 20, 2016
We are sorry, but no more submissions accepted at this time.
organized in cooperation with


bilding. school of arts and architecture for young people, Innsbruck


Technical University Vienna
supported by
project management
Monika Abendstein, getinvolved@bink.at, bilding, Amraserstr. 5a, 6020 Innsbruck, Austria, t +43 699 12847937